Personal Computers for Public Schools (PCPS)
Funded by the Government of Japan through its Non-Project Grant Aid Counter Value Fund (NPGA-CVF), PCPS aims to enhance the IT skills of Filipino youth as the country's future knowledge workers. PCPS4 (2009-2012) is the fourth phase of the project, with an allotted budget of PhP 490 million.
The components of PCPS are: establishment of computer laboratories in public high schools, teacher training, and implementation of computer education curriculum in the project's recipient schools.
DTI handles this project together with Department of Education (DepEd) and Department of Finance (DOF).
DTI, as the proponent agency, is in-charge of project management and coordination at the national, regional, and provincial levels. It is also in-charge of the procurement and distribution of the computer packages.
From 2001 to 2014, the PCPS project (Phases 1 to 4) distributed a total of 61,554 desktop computers to 5,028 public high schools nationwide. This translates to a reduction of computer backlog in the public high schools from 76% in 2003 to 4% in 2014. More than 52,000 teachers from the recipient schools were also trained on basic computer operation and troubleshooting and integration of IT in the basic education curriculum. 
---
ACCOMPLISHMENTS IN 2019
PCPS5 Conducts Monitoring Visit in Region 6
The DTI PCPS5 Monitoring Team, which is composed of the DTI RGMS and the PCPS5 Provincial Coordinator, conducted a monitoring visit to the PCs for Public Schools Phase 5 (PCPS5) recipient schools in the provinces of Iloilo, Capiz, Aklan and Antique from 17-27 June 2019. The monitoring team visited a total of twenty-one (21) recipient schools in the above-mentioned provinces in Region 6; ten (10) of which were in Iloilo, two (2) in Capiz, six (6) in Aklan, and three (3) in Antique.
The monitoring visit was undertaken to ensure that the computer package, which consists of 10 computer desktops and a printer, are operational and that recipient schools comply with the requirements set forth in the Memorandum of Agreement (MoA) which was signed by the DTI, through the Regional/Provincial Office, and the Recipient School. These requirements include among others the retrieval from the recipient schools of the reportorial requirements of the DTI Finance Service (FS), DTI Human Resource and Administrative Service – Procurement Service (HRAS – PS) and Commission on Audit (COA) and the provision of counterpart facilities by the school i.e. AC unit/s, door and window grills, stable internet connection, security personnel, etc.
The recipient schools expressed their gratitude to the Government of Japan (GoJ) and the DTI for the provision of the PCPS5 computer package. According to Ms. Lanie Arcangel, Computer Lab-in-Charge in San Antonio National High School (SANHS) in Antique, the computer package is a huge help to the school and the students as SANHS have not had any computer units since the onslaught of Typhoon Haiyan in 2013. Ms. Arcangel shared that the students were very happy to hear about the new set of computers from PCPS5 further saying that the enrollment for Grade 11 had actually increased this school year.
Finally, in case of warranty servicing and defective units, the recipient schools were advised to alert their respective DTI PCPS5 Regional and Provincial Coordinator and contact the designated service providers through the contact details provided by the monitoring team.
---
January
Facilitated the delivery of 3800 UPS and 380 printers to the warehouse of the courier.
Received the second batch of 675 units of desktop computers from the supplier, Columbia Technologies, Inc.
February
Coordinated with DepEd regarding the release of additional 3,300 Multiple Activation Key (MAK) of office productivity software.
Issued memo for regional and provincial offices on the delivery of computer packages including the required forms to be used in the installation and inspection of computer packages and the procedures for the fund transfer.
Coordinated delivery of computer packages to recipient schools for the following regions and provinces:

Region VII – Cebu
Region X- Misamis Occidental
Region XI
Region XII – South Cotabato, Sarangani & Sultan Kudarat
CARAGA
March
Facilitated the installation of office productivity and anti-virus for the remaining 2,418 desktop computers.
April
Organized the PCPS5 Launching Ceremony in Davao City National High School, Davao City on 05 April 2019. The ceremony was attended by Embassy of Japan's Trade and Commercial Attache Takahiko Shiba and DTI Undersecretary Ireneo Vizmonte as keynote speakers. Local officials from Davao City government and partner agencies like DepEd and DOST also attended the event. A ribbon cutting ceremony was also held in the school's computer laboratory and a marker commemorating was unveiled.
May
Prepared and sent out the required documents (i.e., Property Transfer Report, questionnaire and Certificate of Awards) to the following regions and provinces:

Region 6 – Antique, Capiz, Iloilo and Negros Occidental
Region 8 – Eastern Samar and Leyte
Region 12 – Sarangani
ARMM – Lanao del Sur.

Ongoing preparation of 380 pieces of Back Up and Recovery Disk for distribution to school recipients.
June
Conducted on-site monitoring and inspection of 21 recipient schools in Region VI in the provinces of Antique, Aklan, Capiz, and Iloilo.
Facilitated the repair of the reported defective desktops of the national high schools in Camanci, Aklan, Jamindan, and Capiz.

 July
Conducted PCPS5 monitoring in selected public high schools in CARAGA
Prepared reports of the PCPS5 Monitoring held in selected public high schools in Regions VI and CARAGA
August
Coordinated with PCPS Provincial Coordinators of Region VI for the submission of lacking documents such as Survey Questionnaire and Property Transfer Report.
Submitted to DTI Region VI the highlights of the PCPS5 monitoring visit which was held on 17-27 June 2019 in the provinces of Iloilo, Capiz, Aklan and Antique.
Facilitated the submission of Property Transfer Report and Inspection and Acceptance Forms of recipient schools from Region VI (65 schools) and CARAGA (26 schools)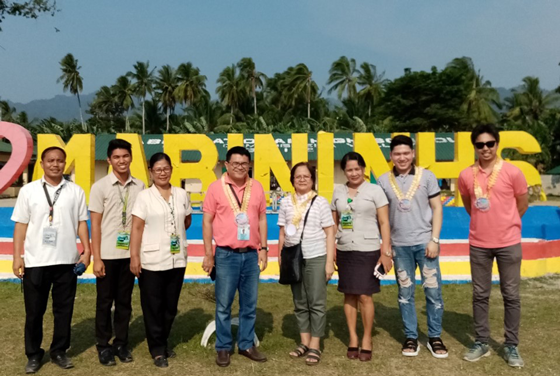 September 
Conducted onsite inspection and monitoring in PCPS5 recipient schools in Region 10 (13 schools), Region 11 (16 schools), Region 12 (19 schools)
Finalized monitoring reports for eight schools in Region 11 in Davao City, Davao Occidental and Davao del Sur.
Followed up with DTI Regional and Provincial Coordinators on the submission of PCPS5 Documents such as Property Transfer Report, Inspection and Acceptance Reports and Journal Entry Vouchers for submission to Property Section of HRAS, FS and COA.
---
October – December
In 2019, the Department of Trade and Industry was granted by the Government of Japan over Php 190 Million in funding for the implementation of the fifth phase of the Personal Computers for Public Schools project (PCPS5). Under PCPS5, a total of 380 public high schools in Visayas and Mindanao received a computer package consisting of ten units of desktop computers pre-installed with the latest Windows and Microsoft Office software and peripherals including ten uninterruptible power supply (UPS) and one 3-in-1 Inkjet printer. As of December 2019, the PCPS5 Monitoring Team, which consists of representatives from DTI-Resource Generation and Management Service (RGMS) and PCPS5 Regional and Provincial Coordinators, has monitored 133 (35%) recipient high schools in all regions of Visayas and Mindanao excluding Region IX to check the status of the computers provided and determine the schools' compliance to required counterpart facilities (e.g. air-conditioning unit, door and window grills, Internet connectivity, and circuit breakers). The PCPS5 Monitoring Team also interviewed the principals and the computer teachers to assess how the computers are being utilized and maintained. Overall, majority of the computer packages are in good working condition and fully operational, with only a few reports of defective equipment. Likewise, 70% of the recipient schools were able to comply with either most or some of the required counterpart facilities—with air-conditioning unit and internet connectivity as the common lacking among the schools. To maintain the computer laboratories, the schools also allot a portion of their Maintenance and Other Operating Expenses (MOOE) and seek additional funding support from PTA and their LGUs. Since its initial implementation in 2001, the PCPS project has provided more than 60,000 computers to more than 5000 schools nationwide helping increase computer access in public high schools from less than 20% in 2001 to 96% when the PCPS Phase 4 ended in 2014.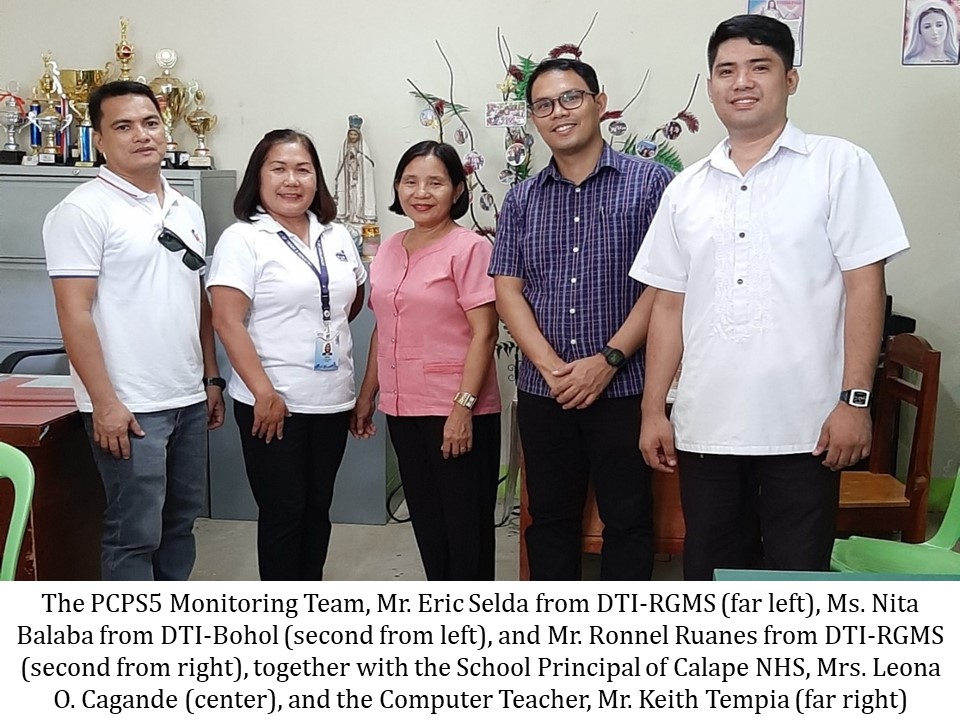 ACCOMPLISHMENTS IN 2018
Conducted market survey to determine the Approved Budget Cost (ABC) for the procurement of logistics provider for the delivery and installation of computers to be purchased from the Department of Budget and Management (DBM)-Procurement Service.
Conducted meeting with the DBM Procurement Service on 07 August 2018 to finalize the requirements and processes for the purchase of 3,800 computer desktops.
Prepared revised list of recipients from 190 to 380 schools and prepared the Purchase Requests for the following:

Computer Desktops through DBM-PS
Additional Office Productivity (1,900) through DBM -PS
Courier Service for the delivery of computer packages to recipient schools in Visayas and Mindanao through DTI BAC
Other peripherals such as Anti-Virus, 3 in 1 printer and UPS through DTI BAC.

Conducted the PCPS5 Orientation for Region 8 recipient schools on 13 September 2018. The activity was designed to orient the recipient schools about the PCPS5 project and the delivery procedures including the forms and counterpart requirements.
Conducted meeting with Premier Logistics, the courier service provider for PCPS5, on the tagging and schedule of delivery of computer packages to recipient schools in Visayas and Mindanao.
Conducted PCPS5 orientation on the delivery, inspection, and turnover procedures of computer packages to recipient schools in Regions 6, 7, 9, 11, and 12.
Conducted PCPS5 orientation on delivery and acceptance procedures to recipient schools in Regions 10 and CARAGA
---
ACCOMPLISHMENTS IN 2017
Conducted a Roundtable Discussion Meeting with former Personal Computers for Public Schools (PCPS) Technical Working Group (TWG) members i.e. Department of Education (DepEd), Department of Information and Communications Technology (DICT), Department of Science and Technology – Advance Science and Technology Institute (DOST ASTI), Department of Science and Technology-Science Education Institute (DOST-SEI), and Department of Trade and Industry- Information Systems Management Service (DTI ISMS)— on 28 July 2017 to discuss the proposed impact assessment of the PCPS project and gather inputs on how to go Sabout it.
Coordinated and participated in the key informant interviews with the Department of Labor and Employment-Bureau of Local Employment (DOLE BLE), Department of Education (DepEd), Department of Trade and Industry – Competitiveness Bureau (DTI CB), Department of Information and Communications Technology (DICT), Commission on Higher Education (CHED), Technical Education and Skills Development Authority (TESDA) and IT and Business Process Association of the Philippines (IBPAP).
Coordinated and assisted the facilitation of the PCPS Impact Assessment focus group (FGD) with the school beneficiaries of: Region 4A on 7-8 Sep 2017 at Manila; Region 11 on 12-13 October at Davao; and, NCR on 20 October at Makati city—all of which involved public school principals and ICT coordinators. Also documented the sessions.
Requested information/data from BOI regarding the IT sector for inclusion in the PCPS Impact Assessment documentation.
Presented the results of the PCPS Impact Assessment to project stakeholders including DepEd, DOST, DOLE, TESDA, and IBPAP.
---
ACCOMPLISHMENTS IN 2016
Prepared and submitted the PCPS4 Terminal Report to DOF, DepEd, and Embassy of Japan.
Prepared and endorsed to DOF the proposal for PCPS Phase 5 which aims to cover public high schools in Visayas (Regions 6 to 8) and Mindanao (Regions 9 to 13 and ARMM), particularly schools that are newly established and/or heavily damaged by natural calamities (.e.g. earthquake and typhoons) in the past three (3) years