Makati, Philippines – To enhance awareness of the World Trade Organization-Technical Barriers to Trade (WTO-TBT) Agreement amongst relevant Philippines' stakeholders as well as improve its implementation by various agencies of the government, the Department of Trade and Industry-Bureau of Philippine Standards (DTI-BPS), in partnership with the Bureau of International Trade Relations (BITR), hosted a three-day WTOTBT National Workshop in hybrid setup at the Makati Diamond Residences last 13-15 September 2022.
The workshop was participated by various international organizations and local government agencies such as the WTO Secretariat, International Organization for Standardization (ISO), International Electrotechnical Commission (IEC), International Telecommunication Union (ITU), Codex Alimentarius Committee (CAC), Food and Agriculture Organization of the United Nations (FAO), Permanent Mission of the Philippines to the World Trade Organization (PMWTO), Anti-Red Tape Authority (ARTA), Food and Drug Administration (FDA) and its centers, National Food Authority (NFA), Bureau of Fisheries and Aquatic Resources (BFAR), Bureau of Agriculture and Fisheries Standards (BAFS), Philippine Coconut Authority (PCA), Optical Media Board (OMB), DTI-Strategic Trade Management Office (DTI-STMO), DTI-Export Marketing Bureau (EMB), DTI-Consumer Policy and Advocacy Bureau (CPAB), DTI-Fair Trade Enforcement Bureau (DTI-FTEB), BITR, and BPS.
"This is an opportunity for us to leverage from the Agreement to pursue our legitimate public policies of protecting the consuming public. It promotes the continued alignment of our Philippine National Standards with international standards which enables easier market access of our products to other markets. Its implementation also helps the institutionalization of good regulatory practices amongst implementing agencies particularly in regulations relating to standards and conformity assessment procedures", said DTI-Consumer Protection Group (DTI-CPG) Undersecretary Atty. Ruth Castelo. Aside from Usec. Castelo, DTI-BITR Director Angelo Salvador Benedictos, FDA Director General Dr. Samuel Zacate, and WTO-Trade and Environment Division Economic Affairs Officer Mr. Devin McDaniels delivered their opening messages that underscored the important role of the TBT Agreement in enhancing transparency and predictability of non-tariff measures and how the use of international standards facilitates trade.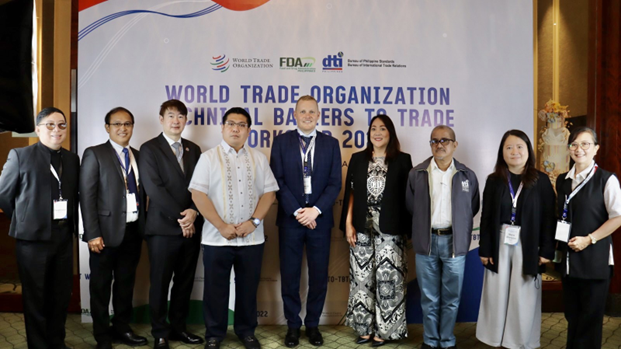 The three-day workshop, led by different speakers from the WTO Secretariat, IEC, ITU, ISO, CAC, FAO, PMWTO, ARTA, FDA, STMO, and BPS, essentially focused on current trade issues, role of international standards in TBT Agreement, good regulatory practices, procedures of drafting and adopting technical regulations, national coordination for effective implementation of the TBT Agreement, TBT notification procedures, recent works of the WTO-TBT Committee, and National Quality Infrastructure and conformity assessment procedures. Mr. McDaniels facilitated the workshop and question-and-answer sessions which reinforced the participants' knowledge of the obligations under the Agreement.
"We are gatekeepers. We would like to ensure the safety and the health of our people, and even plant and animal life in the Philippines, and also our environment. But we would also like to have access to quality goods, to cheaper goods, and we would like our businesses and our service providers to be able to have access to other markets as well," underscored DTI-CPG Asst. Secretary Atty. Ann Claire Cabochan in her closing remarks. She added, "we cannot afford not to look out to the rest of the world, because we cannot supply everything for our own people."
The TBT Agreement aims to ensure that standards, technical regulations, and conformity assessment procedures are non-discriminatory and do not create unnecessary obstacles to trade. The WTO features transparency as a fundamental principle of the multilateral trading system and under the Agreement, Members are required to notify technical regulations and conformity assessment procedures to provide opportunity to other Members to submit their comments and seek clarifications on pending technical regulations.
This year's WTO-TBT National Workshop was the third one conducted following the first two workshops held last 04-06 September 2017 and 27-29 November 2018 in Taguig and Cebu City, respectively.
The DTI-BPS serves as the Philippines' National Enquiry Point (NEP) and National Notification Authority (NNA) under the TBT Agreement. As the NEP, the DTI-BPS is responsible for the dissemination of WTO-TBT notifications on draft technical regulations and conformity assessment procedures among various stakeholders in the country and facilitates submission of comments from various stakeholders. The Bureau publishes the WTO-TBT notifications weekly through the WTO-TBT Notifications Bulletin. As NNA, the BPS acts as the sole notifier to the WTO of the draft technical regulations and/or conformity assessment procedures by the governmental bodies in the Philippines.
For more updates and information on standards, technical regulations, and conformity assessment procedures (STRACAP), please visit the BPS website (www.bps.dti.gov.ph). Emails and messages may also be sent to bps@dti.gov.ph or through the official BPS Facebook page (facebook.com/PHstandards).♦
Date of Release: 27 September 2022