Stockholm, Sweden – With the growing interest in slow food movement and creating avenues to bring quality products from the Philippines, fine chocolates from the country are promoted in Sweden.
On 7 December 2021, the Philippine Embassy in Stockholm, in cooperation with the Philippine Trade and Investment Center Stockholm, International Women's Club of Stockholm, Tzocolaté and the Filipino Artists Association of Sweden (FAAS), hosted an event showcasing Philippine fine chocolates art masterpieces created by Filipinos in Sweden.
Single estate chocolates from Auro Chocolate, quirky flavored craft chocolates from Theo & Philo Artisan Chocolates, and tsokolate batirol from Dalareich Chocolate House tablea were sampled during the tasting led by Tzocolaté, a Swedish brand dedicated to fine craft chocolates from the Philippines. The company is established by three Filipino women in Stockholm to tell the complete Filipino chocolate story – from its fascinating origin and unique flavors to the sustainable farming and production process. Firm in its ethical sourcing and business model, the company believes chocolate should not only taste great but should also positively impact all those who help create it – from soil to bar.
During the chocolate tasting, Tzocolaté told the story of the journey of cacao beans, from the first trees brought from Mexico through the Manila-Acapulco trade to the present fine chocolates with unique flavors. The guests were guided through the various tastes and flavor profile of the craft chocolates parallel to the structure of wine tasting.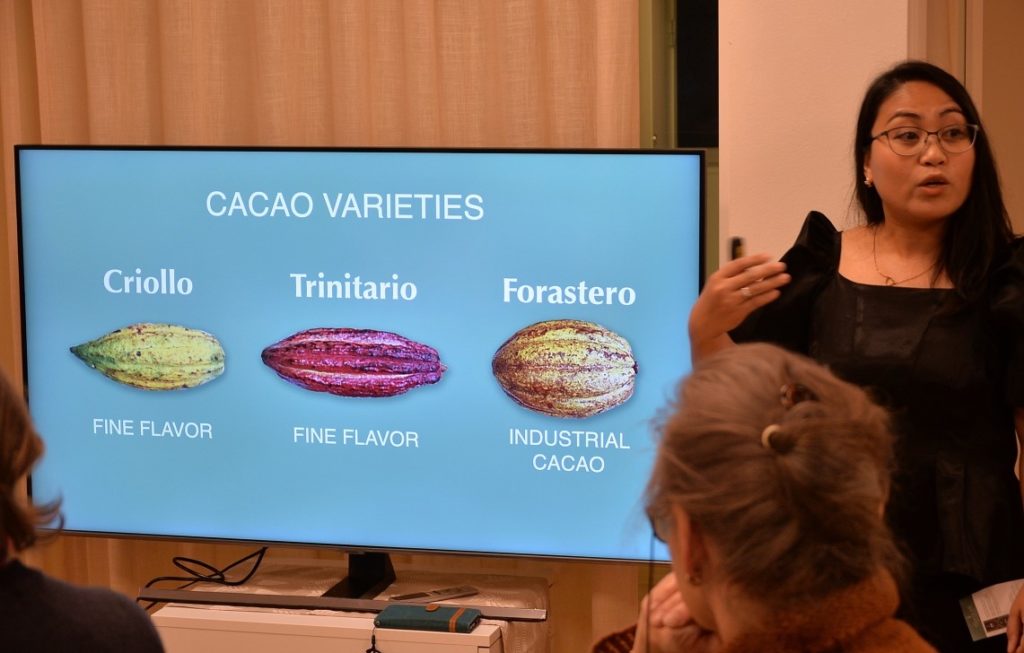 Similarly, the art viewing at the Chancery was facilitated by the Filipino Artists Association of Sweden (FAAS), which was founded by three Filipina artists in 2018. FAAS is a diverse group of visual artists based in Sweden with Filipino heritage and aims to support its members' creative growth and promote Filipino artistry and culture through their public performances both in Sweden and in other parts of the world.
The event started with art viewing, followed by the curated chocolate tasting, and ended with fika or the Swedish custom of taking a break from an activity to socialize over coffee and cake, with the Filipino twist. Pastries with ingredients from the Philippines such as ube, langka, mangoes, and macapuno were served together with Philippine arabica coffee and salabat.
This is one of the first public events hosted at the new Chancery in Lidingö. Similar promotion activities are lined up for 2022 in celebration of the 75th year of Philippine-Sweden diplomatic relations. ♦
Date of release: 8 December 2021