BOTTLING BOUNTY OF THE SEA
In Butuan City, small-scale fisherfolks are no stranger to days when they would go home with almost empty nets.
On slow days, they would typically often bring home bangus or milkfish fingerlings which are sold on a low price in the market. Despite their hard work, there are times when yields are not enough to pay even for their basic needs. But life goes on, and they would still sell whatever was caught from the sea.
This was the problem that JIDA Aqua Resources wanted to help solve.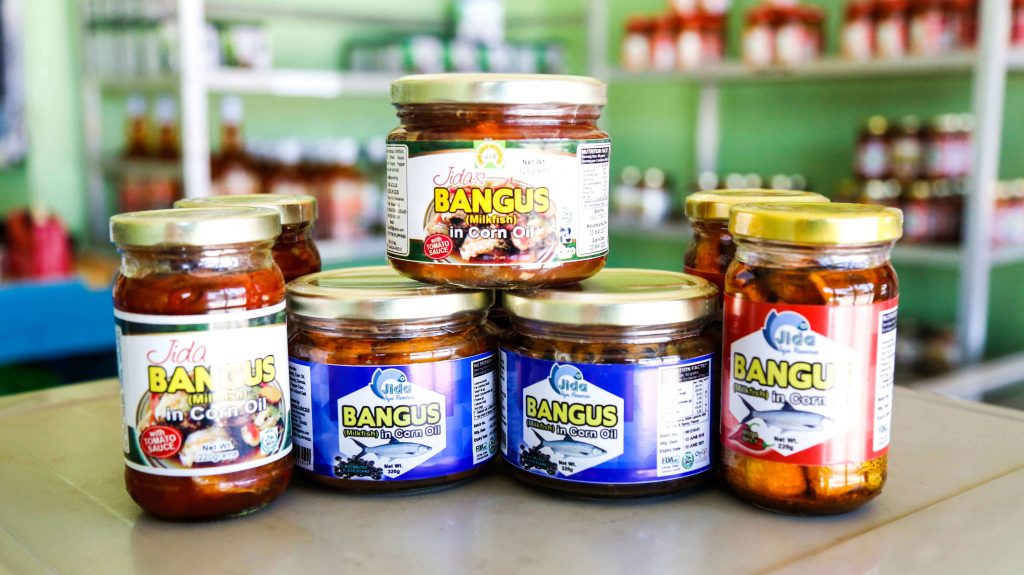 Retrospect on success
JIDA Aqua Resources General Manager Jilna P. Hiponia shared that JIDA has been involved in the buy-and-sell of fresh aquamarine products since 1991, right after she resigned from an eight-year job in a similar company owned by Chinese and Japanese traders. Adeptly steering her business to adapt to the changing demands of customers, she ventured into selling frozen seafood to local and export markets in 2010. All these years, her main suppliers were resident fishpond and hatchery operators in Caraga.
"I want to help our local fisherfolks," Jilna expressed. She would source organically grown resources from fishpond farmers in Butuan and the nearby municipality of Magallanes.
Jilna recalled some of the challenges that she faced at the start of the business.
"One of the most common problems we encounter is our farmers' tendency to cultivate too many milkfish in their ponds all at once, mainly due to the high demand both in the local and international markets," Jilna shared. "Because of this, most of the harvests after three or four months turn out to be as tiny as or barely bigger than regular fingerlings. Those are the hardest to sell."
Since she already knew the areas for improvement, Jilna looked for solutions to remain afloat in this business. She remained optimistic and continued to source from small-time suppliers. She knew in her heart that there is something that could be done. The fully-grown milkfish are usually sold frozen or deboned, while the others in less merchantable sizes are manufactured into balls, spring rolls or lumpia, and nuggets.
With her desire to grow the business, Jilna herself reached out to various government agencies, including the Department of Trade and Industry (DTI) and its export promotions arm, the Center for International Trade Expositions and Missions (CITEM).
With DTI's help, she emerged as one of the industry champions that got to showcase their goods at the International Food Exhibition (IFEX) Philippines.
It was during this event where she met a tiny mishap that would eventually propel her forward.
"The fridge holding all of our merchandise broke down," reminisced Jilna, now smiling at the distant memory. "I wasn't able to sell anything because everything went stale. Fortunately, the organizers paid me in full since they were the ones who provided me the malfunctioning fridge. I was lucky then because they were kind, but I realized I won't be that fortunate all the time. That's when it dawned on me. I have to do something to prolong the shelf life of my products."
In 2013, Jilna decided to try bottling some of the harvested milkfish. Bottling and preserving means longer shelf life, less wastes, and more income for her and the fisherfolks.
The step was a definite game-changer for Jilna. Although JIDA is still known for frozen seafood, their newly preserved goods were pushed in the forefront of multi-day regional trade fairs organized by DTI. Fishpond operators, on the other hand, were no longer worried that their back-breaking labor would be in vain, as JIDA started sourcing more of their smaller harvests to be processed into its now famous ready-to-eat milkfish in corn oil.
The bottled milkfish comes in four variants – hot and spicy, salted black beans (tausi), tomato sauce, and chunky classic – and became an instant a hit to regular customers.
Casting the nets wider
JIDA started to expand when the bottled milkfish was introduced. Jilna also tried her hands on preserved tuna, Norwegian salmon and cream dory fillet, as well as tubes and rings made from crabs, blue marlins, shrimps, prawns, tilapia, and squids. Since then, buyers started to flock to her store in Doongan, Butuan City.
Jilna may not keep a secret recipe for success, but she has gone this far because of her more than two decades worth of expertise in the field and the staunch support of her partners and workers. That, and the wholehearted recognition due to exposure and education provided by the DTI are a boon to her business.
"Being a recipient of DTI's assistance is such a blessing," she shared. "All of us members of the Caraga Regional Association of Traders and Entrepreneurs (CReATE Food, Inc.) are glad that we are given several chances to be part of reputable trade fairs, which allowed us to gain wider customer reach. DTI also offered us seminars so that we can keep our loyal clients by improving the quality of our goods."
Just when Jilna thought DTI has given enough, the Department reached out to her again upon seeing the continuous expansion of JIDA's product line. Tasty, bottled treats are a good, but tasty, bottled treats that look good are definitely much better—hence, DTI is helping her push JIDA's packaging and labeling up a notch.
JIDA has since attracted a fairly strong patronage through the One Town, One Product (OTOP) Tindahang Pinoy program, even during the time when her products were still not Food and Drugs Administration- (FDA) and halal-certified.
Aside from IFEX, Jilna has also been invited by the DTI to showcase JIDA's products at several editions of Sikat Pinoy National Trade Fairs and the Chinese ASEAN Exposition 2018 (CAEXPO) held in Nanning, China. Through these events, JIDA opened its doors not only to local buyers and online sellers, but also to international clients.
Moving forward and looking back
"Right now, what we are gearing for is more export sales," revealed Jilna, citing the potentially huge clientele in China after CAEXPO. "We are eyeing expansion to sardines processing next, because that way we will also be able to lend a hand to our fisherfolks again."
This is one constant, distinctive thing about Jilna: she pushes to lift her enterprise one rung after another, and still reaches her hand out back to aid the local workers.
"Sardines does not have a stable market," she explained. "When sardines harvests are hauled, there is no guarantee that everything will be sold, not even when prices drop. The fish could be priced as low as P5.00 per kilo and there would still be a whole lot left. Sometimes, our fishermen have no other choice but to bury the remainders to be used as fertilizers. I want to help them resolve this problem."
One does not need to look far to see Jilna's big-heartedness. JIDA's regular employees in store, processing plant, and buying stations are given free meals, accommodation, and extra incentives depending on their sales. Even recorder- and camera-toting strangers, whose purpose was to hear the tale of her zero-to-hero success and share it to the world, were treated to a cornucopia of seafood and colorful stories.
From being an employee earning only P2,800 a month to an entrepreneur who managed to give her family—and families of her employees and of fishermen—a chance at a brighter future, one can attest that Jilna's journey is no mean feat.
"I'm very thankful," Jilna stated reiterating her gratitude to her workers, partners, and government agencies like DTI.
There is no recipe for success, indeed, but if there was, it must involve a lot of giving back.