"If they have product ideas, they should push through with it. They should not feel ashamed. A good product with good packaging could boost the morale of its owner. Even if their products are delicious, if their packaging does not look good, customers would prefer ones with better packaging." This is an advice from Mrs. Grail P. Labutan of Vinzagel's Food Products to her fellow entrepreneurs.
What started as a kakanin business in 2016 turned into a full-blown food processing enterprise in the span of five years. Today, Vinzagel's Food Products has more than seven products on its list, including jams, candies, coffee, wines, and chili pastes. Grounded on her hopes of producing health and delicious food options, Grail used materials that are locally sourced in their area. She grows her own berries, she gets ginger from either Kapangan or Vizcaya, and she buys her lemons from the farmers of Tublay.
Just like other businesses, starting was the hardest. Ma'am Grail was challenged in marketing her products. "I supplied a certain foundation in Loakan back then. I gave my products at Php. 27.00 each. They could have sold it 3-for-100 but they sold it for Php.45.00. It was so expensive that only few were sold. Unfortunately, expired products were returned to me.", she said. From then on, she stopped supplying those businesses. Instead, she tried marketing her product through online platforms and targeted local business establishments.
Today, her products are displayed at their family-run business, Polig's Farm located at Ambassador, Tublay, Benguet. Her products are also displayed on the shelves of Drivers, Operators, Employees, Residents and others Multi-Purpose Cooperative. You can also, find then online by searching "Grail's Products" in Facebook.
More than just berries
Vinzagel's products are innovative. All of Grail's products were results of trials and errors of varying recipes. She also expanded her business through innovation and new flavor creation. Instead of making plain strawberry jams similar to the usual makers in their area, she made blueberry-strawberry jams. When there was overproduction of lemons, she created lemon candies and lemon jams. She also created products out of gingers, like candies and syrups. Currently, she is also experimenting on other flavors and one of which is the sayote-lemon.
To survive the unending demands of the market, Ms. Gail emphasized the need to re-invent and experiment. She said, "Dyay dapat uniquiness te products mo te maysa. Hanka nga maum uma nga ag imbento pay te dadduma nga products mo. Dyay adda te patience ken dyay kuma willing ka nga aggastos para makuha mo yung talagang kayat mo nga products. Kasla dyay lemon candyk it tooks 1 year nga nakuhak dyay ikasta na nga ag aramid."
Treats in all sizes
This time of pandemic, securing packaging materials was proven to be a great challenge. She had very few suppliers in the area and if there were any, they would sell it to her at high prices. Often times, these materials were out of stock, because travel restrictions. To address the issue, she created a strategy to minimize her packaging expenses while helping out the environment. Customers who would give back empty bottles, were given discounts on their next purchase.
She still procures packaging materials however, but with the advent of digital technology, she now orders her pouches online and she gets her bottles at a Synergos.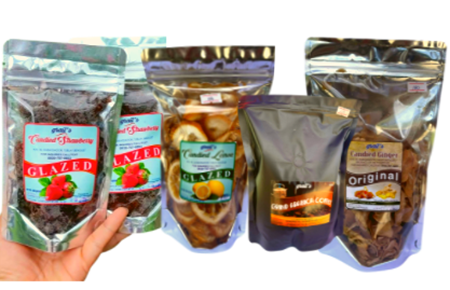 #BUSINESSWITHAHEART
For her birthday, Grail usually comducts outreach activities around Tublay, Benguet. She usually gives school materials and treats to day care and grade one pupils. This is her way of giving back to the community.
Ms. Grail also hires students who needs work especially in times when there are bulk orders and she needs additional hands.
#PARTNERINSUCCESS
Aside from seminars in packaging, labelling, and attendance to the MSME forum through Negosyo Center Tublay, Ma'am Grail was also assisted by DTI-Baguio-Bneguet on the FDA Certification of her production area and on the laboratory of her chili garlic oil. She was also assisted through OTOP Next Gen for her packaging and labelling. All of which has given her confidence in the quality of her products which reached as far as Batangas, Palawan, Hong Kong and US.
On November 11, 2019 Vinzagel's Food Products was given a certificate of recognition for their outstanding efforts and commitment to product development and compliance to industry standards as an emerging MSMEs in the processed food sector.
Thank you. Thank you. Dakdake ay thank you. Long live ay kanan da.Sana adadu pay di matulungan yu adi" She said after our short interview. She has no words but she said, "Thank you. Thank you. A big thanks to you. As they say, long live and I hope you could help more." ♦
Date of Release: 4 November 2022