ONE TOWN, ONE PRODUCT (OTOP) PHILIPPINES is a priority stimulus program for Micro, Small and Medium-scale enterprises (MSMEs) as government's customized intervention to drive inclusive local economic growth. The program enables localities and communities to determine, develop, support, and promote products or services that are rooted in its local culture, community resource, creativity, connection, and competitive advantage. As their own 'pride-of-place,' these are offerings where they can be the best at or best renowned for. It endeavors to capacitate our 'OTOPreneurs' to innovate and produce market-ready products and services.
OTOP is an international program that originated from Japan's One Village, One Product. Its various versions and iterations in numerous countries are proofs that it is a viable branding and stimulus program for MSMEs. Here in the Philippines, it has been in existence since 2002. This was further powered through the promulgation of Executive Order 176 by then President Gloria Macapagal-Arroyo in February 2003. After a decade and a half of combined gains and challenges, OTOP remains to be a strategic tool that provides an ecosystem of assistance from local government units, national government agencies, and the private sector. It is now transitioning to a convergent effort to its next phase of execution in the form of OTOP Next Gen.
PROGRAM COMPONENTS
The program has two major components and are generally defined below:
OTOP Next Gen – as the SUPPLY side of the program, it refers to the package of assistance provided to capacitate the MSMEs. This component is primarily the product development initiatives, training, referral, and others with the goal of leveling up the products in the areas of design, quality, volume, among others. This component addresses MINDSET CHANGE and MASTERY of entrepreneurship.
OTOP.PH or OTOP Philippines Hub – as the DEMAND side of the program, this provides the physical and online channels and market access platform where OTOP products – especially those which has been assisted via product development – are showcased on a day-to-day basis. This addresses the MARKETS side of entrepreneurship.
OTOP NEXT GEN
OTOP Next Gen is DTI's program to LEVEL UP these products and services. Building from the gains of OTOP first generation, this initiative aims to offer a package of public-private assistance in order for MSMEs with minimum viable products to come up with new or better offerings with significant improvement and innovation in the areas of quality, product development, design, packaging, standards compliance, marketability, production capability, brand development, among others.
The reboot in 2017 allows communities to have more than one OTOP offering and has transitioned to being more market-oriented and innovation-driven. Market preference ultimately dictates the OTOP offerings and the business direction that OTOPreneurs should take.
In its relaunch in 2017, the program was able to assist 6,519 MSMEs and developed or improved a total of 4,960 products and prototypes. Several of these products are now found on supermarkets, weekend bazaars, Go Lokal! outlets, and other market platforms including soon-to-open OTOP.PH or OTOP Philippines Hub.
PRODUCTS COVERED
OTOP covers only tangible products and skills-based services. Experiences, tourism activities, festivals are not covered. OTOP includes the following:
Processed Food : processed fruits and nuts, delicacies and 'kakanins'. juices and beverage, pastries and bakery goods, preserved food, sauces, cakes and desserts, wine, tea, food supplements, culinary-based specialty products
Agri-based Products: coffee, cacao, agricultural produce, agri-processing (processed meats, coconut oil, etc), seafood (preserved and processed)
Arts and Crafts : coco coir, weaves, bamboo, paper artistry, wood
Home & Fashion/ Creative Artisanal : gifts, souvenir items, furniture, décor, houseware, fabrics, garments, toys, textiles
Services (skills-based) and Others: hilot, sculpting, wellness products (essential oils, etc), industrial products, personal care (soaps, etc), cosmetics
PROGRAM PHASES
The program is composed of four phases: ACT Sessions , Service, Showcase, and Sell, Sell, Sell.
ASSISTANCE ECOSYSTEM
OTOP Philippines is part of an ecosystem of current entrepreneurship programs
intended as a branding and marketing platform and with product development as its primary instrument of assistance. It offers a comprehensive assistance package through a convergence of services from local government units (LGUs), national government agencies (NGAs), and the private sector with the end of mind of alleviating poverty and promoting profitable goods and services thereby developing MSMEs, creating jobs, and stimulating both local and international trade. This includes:
Product Development

Design Services and Intervention
Packaging and Labeling
FDA, Nutrifacts, and Testing Assistance

Technology Updating
Capacity-Building
Brand Equity and Development
Intellectual Property Assistance
Access to Finance
Marketing Platforms and Promotion
OTOP PHILIPPINES HUB (OTOP.PH)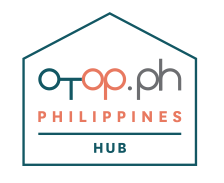 OTOP Philippines Hub or OTOP.PH is a retail store or spaces where products from One Town One Product offerings can be found. Catering to the general mainstream market of both local buyers and tourists, these one-stop shops offer a general outlet for quality OTOP merchandise before they level up to the premium market catered to by Go Lokal and other high-end market platforms.
As a one-stop shot, the OTOP Philippines Hub can be a redesigned pasalubong center showcasing mostly OTOP products including OTOP from other regions. The hub can be found in mostly in airports, terminals, pasalubong centers, tourist spots, Negosyo Centers, public markets, and other consumer-frequented locations including malls. As another flagship market access program by the Department of Trade and Industry, this serves as a marketing vehicle and incubation platform to promote and champion OTOP products.
OTOP.PH Map (as of 25 June 2019)
OTOP.PH Hubs Directory (as of 26 June 2019)
CONTACT US
OTOP Philippines is a convergent program involving DTI and other agencies of government. At DTI, the program is managed by the Regional Operations Group under the leadership of Undersecretary Blesila A. Lantayona
The Assistant Secretary in charge of the program is Assistant Secretary Demphna Du-Naga
For any inquiries, you may contact your DTI local offices near you or email us at: otop@dti.gov.ph
Facebook: https://www.facebook.com/OTOPPhilippines/
Instagram: https://www.instagram.com/otop.philippines/
Landline: +63 2 7913289