Start and Grow Your Business
START YOUR BUSINESS
The Micro, Small, and Medium Enterprise Development (MSMED) Plan was developed in consultation with national, regional, and provincial stakeholders. A participatory approach was adopted involving a series of stakeholder consultation, validation, and recalibration workshops participated in by representatives from the private sector, local government units (LGUs), national government agencies (NGAs), the academe, and civil society.
The MSMED Plan has four major outcome or result portfolios, namely Business Environment (BE), Access to Finance (A2F), Access to Markets (A2M), and Productivity and Efficiency (P&E). It will also take into consideration global themes and cross-cutting issues related to gender, climate change, corporate social responsibility, and migration.
GROW YOUR BUSINESS
Now that you have started your own business and want to expand it, this section provides you with information on how to do it.
Finance Your Business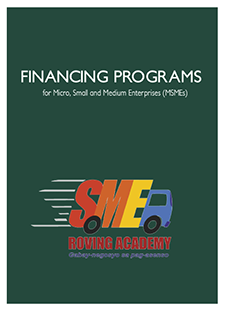 Financing Programs for MSMEs
Now that you have started your business, this section provides information on how to grow/expand your business operation. The growing number and significant role of micro, small, and medium enterprises (MSMEs) in spurring national economic growth prompted the compilation and publication of this handbook on Financing Programs for Micro, Small, and Medium Enterprises.
The implementation of micro financing and SME lending programs by various institutions is generally recognized as an essential tool in stimulating entrepreneurial activities. Through this compendium, the Bureau of Small and Medium Enterprise Development (BSMED) aims to increase the Filipino entrepreneur's awareness on sources of funding available from government and private sector institutions for his business, and encourage him to access these facilities based on the capabilities of his enterprise. This menu of financial services will hopefully develop and strengthen the ability of MSMEs to better manage their operational activities and possibly embolden them to cater to areas beyond their traditional markets. This compilation is an initiative of BSMED under the Department of Trade and Industry (DTI).
---
Usapang Pera: Mga Dapat Alamin
The Philippine Deposit Insurance Corporation (PDIC) Guidebook on Basic Banking and Financial Transactions (Usapang Pera: Mga Dapat Alamin), serves as an easy-to-read reference guide and a financial literacy tool for everyone for understanding banking products and transactions. The basic principles of money, saving, banking investments, and deposit insurance are discussed to guide the Filipino in making well-informed and effective financial decisions. This Guidebook is intended to help the depositor discern differences in risks and return on various banking products.
This guidebook is a publication of the PDIC which serves as a functional memento for its 50 years of service in deposit insurance, depositor protection and its role in the maintenance of financial stability.
To download a copy of the handbook, visit the website of PDIC.
Trademarks And Patents
The Intellectual Property Office of the Philippines (IPOPHIL) draws its mandate from Republic Act (RA) No. 8293, otherwise known as the Intellectual Property Code of the Philippines, which took effect on 01 January 1998.
Powers and Functions:
Examine applications for grant of letters patent for inventions and registers utility models and industrial designs.
Examine applications for the registration of marks, geographic indications, and integrated circuits.
Register technology transfer arrangements and settle disputes involving technology transfer payments covered by the provisions of Part II, Chapter IX on Voluntary Licensing, and develop and implement strategies to promote and facilitate technology transfer.
Promotes the use of patent information as a tool for technology development.
Publish regularly in its own publication the patents, marks, utility models and industrial designs, issued and approved, and the technology transfer arrangements registered.
Adjudicate inter parties and administrative cases on violations of IP rights.
Coordinate with other government agencies and the private sector efforts to formulate and implement plans and policies to strengthen the protection of IP rights in the country.
Programs and Services:
Information Dissemination – Develops and organizes information dissemination programs that specifically address the level of understanding of micro, small, and medium enterprises (MSMEs) with the objective of assisting them reach the highest potential use of their IP rights
SME Advisory Desk – Provides a more focused advisory and technical assistance to MSMEs
Making Your IP Your Most Valuable Business Asset
The Role of the IP System in Economic and Technological Development
Catapult Your Business Growth Through Intellectual Property
Making IP an Active Partner in Your Business
Strategies for Commercializing and Marketing IP Assets
Use of Information by MSMEs
Technology Information Brokering and Matching (TIBM) for SMEs
Envisions to contribute significantly towards upgrading the competitiveness of the country's MSMEs through the provision of a more focused and market-oriented technology information and other services
Promotes, establishes, and enhances business linkages between prospective users of technology, the MSMEs, and the suppliers of technology like the inventors, patent holders, technical institutions, and the like
Facilitates a pro-active, cost-effective technology information brokering and matching services for SMEs through the following activities:
Assessing and determining the technology information needs of the MSMEs
Sourcing and packaging the technology information needs by the MSMEs
Disseminating the required information to the prospective users
Facilitating the "encounter" and negotiation between the users and the suppliers of technology
Packaging relevant documents like contracts, business plans, or feasibility studies for the clients
Training Opportunities– extends training opportunities for MSMEs, not only in the Philippines, but also in other countries
Two-Tiered Fee Structure–  50-% reduction in the fees assessed by IP Philippines
For a small entity– Any natural or juridical person whose assets amount to P20M pesos or less
Any entity, agency, office, bureau, or unit of the Philippine government including government-owned or/ controlled corporations (GOCCs), state universities and colleges (SUCs), and government owned or government-run schools.
IP Philippines Website for more information.
Quality Standards
The Bureau of Philippine Standards (BPS), as the National Standards Body of the Philippines, develops, promulgates, implements, and coordinates standardization activities in the Philippines as prescribed in Republic Act (RA) No. 4109 or the Standards Law and RA 7394 or the Consumer Act of the Philippines.
BPS is an active member of the International Organization for Standardization (ISO), the International Electrotechnical Commission (IEC), the International Accreditation Forum (IAF), the Asia Pacific Economic Cooperation (APEC), the Association of Southeast Asian Nations (ASEAN) Consultative Committee on Standards and Quality (ACCSQ), the Pacific Accreditation Cooperation (PAC), the Asia-Pacific Laboratory Accreditation Cooperation (APLAC), and the International Laboratory Accreditation Cooperation (ILAC).
Programs and Services:
1. Standards Development
Develops, reviews, and updates Philippine National Standards (PNS) for products and services
Harmonizes PNS with international standards
2. Standards Promotion
Promotes standards and standardization and conformity assessment activities
Conducts awareness sessions, training programs, fora, exhibits, trade fairs, and seminars
Establishes network with trade associations, industry organizations, academe, and other government agencies to facilitate communication with regards to the implementation of standards
3. Standards Enforcement and Consumer Assistance
Conducts regular market monitoring and enforcement operations nationwide
Acts on consumer complaints/reports
Holds seminars for the manufacturers, importers, traders, wholesalers, distributors, and retailers on their responsibilities to the buying public
4. Product Testing Services
Offers third-party testing of products through its BPS Testing Center
Performs electrical, chemical, and mechanical testing of products primarily to support the BPS Product Certification Scheme
5. Product Certification Program
Issues the Philippine Standards (PS) License and the Import Commodity Clearance (ICC) to manufacturers and importers, respectively, that complies with the safety and quality requirements of a specific standard
6. Registration of Assessors Services
Supervises the National Registration Scheme for Quality Management System (QMS) and Environmental Management System
Updates assessors on matters concerning international quality and environmental standards
7. Information Services
Offers Library services/Standards Data Center
Receives inquiries and fills orders for copies of local, foreign and international standards, catalogues, standards-related publications, and metrication materials
8. WTO TBT Enquiry Point Services
Assists exporters in identifying and obtaining overseas standards and regulatory and testing requirements that are affecting their products
9. International Services
Performs and oversees activities concerned with regional and international affairs of the BPS particularly on the development of memorandum of understanding (MOU) and mutual recognition arrangements (MRA) in a bilateral and multilateral level
10. Accreditation of Conformity Assessment Bodies
Awards certificates of accreditation to management system certification bodies that issue Certificates of ISO 9001 or QMS, ISO 14001/Environmental Management System (EMS), and Hazard Analysis Critical Control Point (HACCP)
11. Laboratory Accreditation
Accredits testing and calibration laboratories through the BPS Laboratory Accreditation Scheme (BPSLAS)
12. Training
Extends technical assistance through seminars and training programs both for the government and private sectors
Market Development Standards
Bureau of Domestic Trade Promotion (BDTP) sells publications, which are source of information and guide for manufacturers and exporters looking for local suppliers. It is also useful for those looking for partnerships, subcontracting, distributorship, and other business cooperation arrangements.
Paano Maging Supplier, Isang Gabay Para sa SMEs (10 booklets, Tagalog version)- Booklets/guidebooks that contain basic guidelines and requirements of various buyers that a supplier should know to help them in selling their products and/or services to major buyers such as supermarket, office and school supplies store, department store, hotel and resort, government office, and fastfood and restaurant chain.  It is also a guide for would-be entrepreneurs on how to start a business.
Supermarket
Office and School Supplies Store
Department Store
Hotel and Resort
Pamahalaan
Fastfood and Restaurant Chain
Subcontractor
Paano Maging Certified Food Supplier?
Paano Magbenta ng Produkto o Serbisyo?
Paano Maging Halal Certified Food Supplier?
Source Book for Food Manufacturing (Three editions)
contains directory of suppliers of food products, equipment, packaging, and services related to food sector.
First publication covers sources in Metro Manila and was published in 2005.
Second edition covers suppliers of Mindanao food sectors and was published in 2008.
Third publication covers sources in South Luzon to be published in 2009.
Philippine Raw Materials Catalogue (Four editions – yearly publication)
 is a series of publications, which showcases a variety of indigenous raw materials used in manufacturing Philippine products.  It provides the scientific names of raw materials, its biological structures, economic uses, and places in the country where they can be found.  It also contains list of raw material suppliers and contact information.
Published in 2005 – The Philippine Raw Materials Catalogue:  Wearable, Gifts and Holiday Décor volume features a variety of indigenous raw materials used in wearable, gifts and holiday decors such as bamboo, bast fiber, climbing ferns, reeds, herbs, erect palms, climbing palms (rattan), sedges and rushes, screw pines (pandan), woody pines, leather, seashells, beads and components.
Published in 2006 – The Philippine Raw Materials Catalogue: Furniture, Furnishings, and Loomweaving volume features raw materials used in the furniture, furnishings and loomweaving industries such as rushes, grasses, woody vines, screwpines, erect palms, bamboo, tree plantation species, fibers, fossilized/skeletonized leaves, and butterfly.
Published in 2007 – The Philippine Raw Materials Catalogue: Beads, Carabao Horns and Bones, and Seashells volume features the uses of beads, carabao horns and bones, and seashells in manufacturing Philippine products.
Published in 2008 – The Philippine Raw Materials Catalogue: Manila Palm, Banana, Corn, Coconut, Fish Scale, Recycled, Tahong, Water Hyacinth, and Sabutan
Trade Associations Directory 2006 – 2007
(available in print and CD installer) is updated and published every two years. It contains lists of various trade association members with its contact details and product/service lines.  It covers the following sectors:
Agricultural products
Automotive parts and accessories
Chamber of Commerce
Chemical and chemical products
Construction
Fashion accessories
Franchise
Fresh and processed foods
Furniture and furnishings
Garments
Gifts, toys and housewares
Hotel and restaurants
Info-tech and electrical products and services
Metal products
Non-metal products
Paper products
Petroleum
Pharmaceuticals
Resource based products
Retail
Services
Others not elsewhere classified
Philippine Food Product Catalogue (available in print and CD installer) features 111 Philippine manufacturers/exporters offering a wide array of products in the following food sectors:
Snack foods
Baked products
Processed fruits and vegetables
Wines and beverages
Sauces and condiments
Processed meat products
Frozen/processed marine products
Organic and natural products
Other food products
It also features the Philippine food industries and regional & provincial food products/delicacies. The BDT is also planning to develop an On-line Philippine Food Product Catalogue, which is a web-based info system with facilities to search food products by company, brand name and/or location of the company. Details on the company will be updated every year.
Philippine Subcontractors/Contractors Directory aims to introduce and match SMEs with new markets, specifically big and institutional buyers who are in need of suppliers and subcontractors of raw materials, products parts, components, and services essential to their production. The Directory includes garments/textile, footwear, canes, vines, fiber weaving, ceramics, stoneware, earthenware, Christmas and other holiday decors, processed food, paper and paper products, toys, furniture and furnishings, packaging, toll packing, fashion accessories, and handicrafts sectors.
Product Development/ Tech Services
The Design Center of the Philippines (DCP) promotes design as a tool for improving the quality and competitiveness of Philippine products. It services the design needs and requirements of SMEs.
Programs and Services:
Product Design and Development. Design, development, or improvement of products and labels responsive to market needs and requirements and manufacturer's production capabilities
Design Research. Acquisition and dissemination of relevant design and market data and conduct of applied research projects to support product development activities of both designer and industry
Design Promotion. Increases awareness and appreciation of design and its use through exhibitions, seminars, dialogues, and publications.
Product Design. Design of a new product, product adaptation, product diversification, or expansion of existing product or product line
Technology Updating Workshops. Hands-on learning and application of skills on techniques such as finishing to complement product development activities
Design and Technical Information. Information dissemination activities such as seminars on product development, design trends, and related topics
Library. Access to design and related information from local and foreign sources for designers and industry.
Who may avail of these services? Open to everybody but priority given to manufacturers and would-be manufacturers.
Directory of Common Service Facilities
This directory provides vital information on existing common service facilities nationwide which SMEs may tap to help increase their output and boost their competitiveness.  The scope of services covered includes:
Machinery and equipment;
Raw materials procurement;
Product research development and quality control;
Storage/warehousing;
Trade consolidation and provision of display centers;
Business incubation services;
Skills training; and
Other services.
Particularly, this directory contains the name of the facility, its location, the name of its owner/contact person, the services offered, equipment provided by the facility, and sectors serviced.
Download the 2006 Directory of Common Service Facilities Handbook.
Visit the DCP Website for more information.
Export Trade (Tradeline)
The Export Marketing Bureau (EMB) is the export promotion arm of the DTI. It provides frontline assistance, information, and specialized consultancy services to all exporters (both potential and established) as well as the public in general. As the lead agency tasked to develop, promote, and expand export trade, the BETP seeks to enable Philippine exporters to compete with world-class products and services in the international market.
Programs and Services
1. Frontline Services
The Trade Information and Assistance Group through the Export Trade Facilitation Division, serves as the customer/exporter relations personnel of the BETP for all export trade-related inquiries. This frontline team provides real, immediate, and substantial assistance to existing and potential exporters.
Export Assistance Network (EXPONET). To minimize the uncertainties of getting started in the export business, the EXPONET provides assistance on all export-related matters including export procedures and documentation, trade complaints, and others.
Business Matching Center. Foreign buyers and local exporters find commonality through this special information service. The center receives inquiries regularly and directly from international importers and the Philippine Foreign Trade Posts abroad. These inquiries are made available to legitimate local exporters for free.
On-Line Trade Information System. Tradeline Philippines provides trade information through an interactive on-line system. Among other things, this unique service contains export and import statistics, exporters' directory, product and market profiles, and other valuable industry links.
International Trade Resource Center.  A wealth of trade information is available in this specialized library. Ideal for businesspeople and the academe, the center holds a comprehensive collection of printed and electronic materials such as books and journals on international trade with emphasis on product and market information.
Communications Division. BETP clients, particularly members of Business Selling Missions for dispatch to various target markets, may seek the creative and technical assistance of this group for the preparation of promotional materials in print or electronic format. Also available for sale are copies of the Exporters Manual and Handy Guide to Export.
Export Trade Complaints Committee. Should disputes arise between local suppliers/exporters and foreign buyers, complaint cases may be filed with the BETP through the Export Trade Complaints Committee. BETP has a pool of personnel who trained with the Makati Regional Trial Court and the Supreme Court of the Philippines to mediate on export-related complaints.
2. Specialized Consultancy Services
Market Consultancy. Through the Market Strategy and Consultancy Group, exporters who intend to penetrate specific markets such as the Americas, Europe, Association of Southeast Asian Nations (ASEAN), Asia, Australia, and the Middle East may seek the expertise of Country Desk Officers. These officers assist in formulating marketing strategies and provide exporters with updated information and other valuable tools to increase export sales in identified markets.
Product Consultancy. Trade policy issues, as well as updates on research and development for specific products are discussed during consultative meetings with the Product Officers. The team of Product Officers at the Product Research and Strategy Group provides assistance to exporters based on the following product categories of expertise:a. Resource-based commoditiesFood and food preparations
b. Herbal and natural products
c. Industrial manufactures
d. Consumer goods
e. International services
f.  Others
Business Missions. Exporters wanting to visit a particular target market either for exploratory purpose or direct sales promotion may join BETP business missions. The Market Officers and the Product Officers specialize in organizing Business Missions for dispatch to specific markets.